Sunday 2nd Aug meet 9.45am for 10.00am walk at Whitford Forest
Update – Almost 30 dogs and their owners had a great morning walk see photo!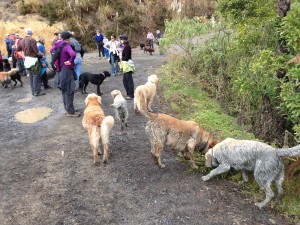 See flyer for details
Please note we will be meeting for our walk at the Rewa Rd entrance to the Whitford Forest. The Siberia Hill entrance to the forest is closed as they are logging in there.
The meeting time is the same – 9.45am for walk at 10.00am.
We will meet whatever the weather – except, perhaps, if there are tornados or thunder and lightening happening! However wear suitable clothes and shoes to cope with wet and mud which could be around on this walk. This walk is suitable for everyone and all dogs of reasonable fitness but only dogs which are over 10 months old.  Don't forget  to bring towels for your dogs afterwards.
Families are welcome and even non-Labradors can join the group as long as they are social and under control. We walk for about two hours and the cafe in Whitford is usually stopped at on the way home for a reviving cup of coffee.
Any queries ring Sally 092325664 or 0272294803
Directions
Drive through Whitford and follow the Whitford/Maraetai Road. This becomes
Maraetai Drive and takes you down to the Maraetai beach and a round-about. At this
round-about you turn right into Rewa Road which is twisty and takes you back to the
forest. At the end of Rewa Road is where we meet. There are houses around so
please park carefully and do not block anyone's drive.
We will gather there and continue on foot. Once again keep dogs on leads
until you are told to let them off.
Click here for map of Rewa Road