Under the umbrella of The Labrador Club, some of our members do their best to help abandoned and unwanted pure bred Labradors. The Rescue scheme is mainly intended for dogs impounded by the authorities and not claimed, and for those whose owners die or become physically unable to look after their dogs any more.  We do however also have owners asking us to find new homes for their Labradors because they are just not coping. Perhaps they did not give enough thought to the commitment of owning a dog or perhaps the breeder did not research the potential owner thoroughly.
Whatever the reason the rescue team does its best to find a new home for these Labradors and this is a very worrying job because the second home must be the last home.  Please note that this scheme is for pure bred Labradors only as that is the focus of the club.  We are not able to extend this scheme to include labrador crosses.
There is a certain amount of expense involved in running Labrador Rescue such as vaccinations, castrations or speying, injuries that may have been incurred, kennelling, and advertising for new homes. We do ask new owners for a donation and, human nature being what it is, it is often said that "folk value what they pay for". We also often need a temporary home until a suitable new owner can be found.
So if you are able to help Labrador Rescue in any way, please don't hesitate to contact us!
Read here about dogs rescued in 2013
To see more about dogs rescued so far in 2014 see here

Aug 2017 5 year old Bosco needs a new home
UPDATE:- Bosco was inundated with offers of a new home
Bosco's owner has died suddenly and he needs a new home. Fortunately one of our members has offered to foster him in Tauranga for now but we need to find him a forever home. This is what we have been told about him:-
He likes all food and lazying around. Occasional walks and swims. Lots of attention and love.
He is very house trained and walks on a lead with no problems although he does pull at the start but usually stops pulling once he is more tired
Believe he gets on well with other dogs. Not sure of cats or children
Desexed but needs a booster vacination
If you are interested in Bosco please contact
Gail – Lab Rescue
021-365450
daisyfatlabby@live.com
Disclaimer: The Labrador Club inc. accepts no responsibility for dogs rehomed through Labrador Rescue

June 2017 6 year old Locksley and Maddy need a new home together.
UPDATE:- Fantastic news – Locksley and Maddy have found a new home together in Otaki
Locksley and Maddy are 6 year old Labradors – brother and sister. Their owners have split up with one going overseas and the other often away from home for their job. For now the dogs are with another family member in Auckland who will care for them for as long as needed until they can be found a great home together. Unfortunately it is not a suitable permanent home as they already have two dogs of their own. Their owner is keen that they stay together as they are best buds and curl up like yin and yang to sleep at night.
They are healthy, have up to date records, very happy in dog kennels and around children. Cat-wise they will always try the first time to chase it but if the cat stands up for itself they live in harmony with them. The boy Locksley is a handsome red fox and gets along with every dog and just loves to swim and sleep and eat grass. Maddy is black with a little grey beard, she is the snuggling cuddly one who just loves pats and also really loves walking and exploring. She does have a slight mean streak every once in a while with beagles but we have spent a lot of time with dog trainers and have learnt how to manage her, so I think she would need someone that has owned a dog before. They both are used to being at home during the day and don't bark.

May 2017 18-24 month old Bruno desperately needs a new home
UPDATE:- Good news – Bruno has found a new home in Christchurch
Hi everyone
This lovely boy is Bruno. He is only being re-homed as his owners work long hours and just don't have time for him.
In saying that, he has not been socialised much and is not good with cats. We are also working on his training. He is now being fostered with 4 other dogs and is quickly learning to behave around them. He is a smart boy and was crate trained within a day.
He is an absolute idiot when you brush him. Flops around like a fish out of water. He's gorgeous and loves cuddles and sleeps on your feet when your watching tv. He just wants to be near you. He is definitely an inside dog. If you are inside he wants to be able to be inside with you. Though he does wander off and does his own thing.
He's desexed, fully vaccinated etc. He loves attention. He's a big strong boy and needs someone who can give him the attention and time that he deserves.
If you are interested in Bruno please let me know asap.
cheers
Gail – Lab Rescue
021-365450
daisyfatlabby@live.com
Disclaimer: The Labrador Club inc. accepts no responsibility for dogs rehomed through Labrador Rescue

Jul 2016 5 year old sisters Piri & Toa need separate new homes
UPDATE:- Piri & Toa have been re-homed through the Labrador Club via Aran Rescue.  A couple of different people coming to the Lab club wanting doggies have adopted them.
The owner of 5 year old sisters Piri & Toa has recently passed away and relatives are unable to take the dogs.
Piri and Toa. Both are 5 years old , currently registered and microchipped. They are both speyed. Only one thing is that they have had only one course of vaccinations done in Sept 2015. The last treatment was for flea and worming in Jan 2016."
That's all the info we have. They are situated in Taumarunui currently and the rescue center has advised that they are best to be re-homed separately as they are better behaved by themselves.
If you are interested in Piri or Toa please let me know asap.
cheers
Gail – Lab Rescue
021-365450
daisyfatlabby@live.com
Disclaimer: The Labrador Club inc. accepts no responsibility for dogs rehomed through Labrador Rescue

Jul 2016 2-3 year old Smudge desperately needs a new home
UPDATE:- Smudge has been re-homed in Blenheim with lovely retired guy who can give her all the care and attention that she requires. He has had dogs before and is "eyes wide open" with Smudge needing a bit of work.
Hi everyone
Smudge is around 2-3 years old and is in desperate need of a new home. She needs to be in a home where she is the only pet. She has not had much in the way of training and will need training. Basically she hasn't had any proper training and is strong willed and because of this needs an experienced owner who can teach her some boundaries.
GOOD THINGS THOUGH – SHE DOES DO WELL WITH TRAINING. Sam had her in training for the month they had her and she was doing really well and progressing nicely. Unfortunately that stopped when she went back to the original owners.
We discovered she loves toys and canon bones, so left these for her to keep herself entertained while we were out. Brigid said she slept outside at night, but had access to the laundry. We kept her inside as Buddy is an inside dog. As soon as the lights went out she would lie on her bed in our room and sleep until the lights came on in the morning.
From what we have seen, loves water! Loves walks and exploring. Has lots of energy for these activities.
Training – sit, down, come, bang (play dead), and is fabulous with food, won't touch her dinner/breakfast until you tell her to. She pulls a bit on the lead, so we started walking her on a longer lunge lead, and she was absolutely fine.
She still has a bit to learn, but she is very smart. She loves cuddles, and just wants attention.
She is a very nice dog and very good looking but needs a firm and experienced owner. She has a good nature and learns quickly. Smudge is house trained and sleeps in the laundry at night. This door is left open during the day as well so that she has access to shelter. Unless we are home she spends the day outside.
We have friends with small children and although she gets excited at first she settles down and we have had no problem with toddlers playing with her.
As for socialising with other dogs, during walks she doesn't show any aggressive tendencies apart from the usual barking!!
Smudge is a real sociable dog, loves to be with people, even if it's just in the same room, she is happy to just hang out with us in lounge.
If you are interested in Smudge please let me know asap.
cheers
Gail – Lab Rescue
021-365450
daisyfatlabby@live.com
Disclaimer: The Labrador Club inc. accepts no responsibility for dogs rehomed through Labrador Rescue

Jun 2016 13 year old San needs a new home
UPDATE:- San has a new home
| | |
| --- | --- |
| | This grand old dame needs a new home, the following is from her owner |
We got her at 8 weeks from a breeder in Clevedon.(who has moved from the area several years ago) She is in good condition , lovely coat, good weight – approx 28kg (always had quality food) , well behaved, has some arthritis, which I am happy to cover her arthritis pills for the first year.
She is a beautiful companion. The vet describes her as polite. I would describe her as gentle, friendly and undemanding . As you can see he has a great friend in our cat. It is with sadness and hesitation that I need to re home her and . Ideally i would like to transition her slowly to see if its a good fit. Its a big change for her too.
I'm looking for a home where she will be firstly loved, be able to be inside and outside and that the owner/owners are present and shes not left at home all day. She is very friendly, gentle and retiring. We have always lived near the beach at whangaparaoa and although San has never been a swimmer, she does like her feet wet. I walk her shorter walks these days (only some days) on flatter terrain. San has always been walked on a lead. She loves going in the car because they usually means some adventure. I have a Rav Four and she sits on the passenger floor area only because jumping into the open boot area is to hard for her, and i cant lift her anymore.
I'm in the unfortunate position of having to re home her because our living and life circumstances have changed. My husband and I have sold our family home and are moving into the city.We have been renting an apartment during 2015 and this year, as my husbands work is in central Auckland. But animals are not allowed. This is a temporary location (several months) and although I will be looking for a town house to rent we have no guarantees we can take her there. I move out of our family home in mid July but would like to re home her in early July.
Gail, I would appreciate it if you consider this request and let me know what might be possible.I am flexible to talk during the day or evening. . Presently I have one person who has an elderly dog and may take her also but nothing definite yet.
If you are interested in San please let me know asap.
cheers
Gail – Lab Rescue
021-365450
daisyfatlabby@live.com
Disclaimer: The Labrador Club inc. accepts no responsibility for dogs rehomed through Labrador Rescue

Feb 2016 5 year old Jake needs a new home
UPDATE:- After a couple of false starts, the gorgeous Jakey has gone to a new home. Frank saw him on our website and rang me, told me about himself and the lifestyle he and his wife could give Jake.  Frank flew up from South Island to pick him up. So Jake is moving islands, to a lovely big home and yard and to top it off, has another lab as a playmate.
Jake is in desperate need of a new home. Below is a bit of information regarding him.
We had the perfect home set up for him but unfortunately their much beloved other chocolate lab has become very ill suddenly so they don't want to take on another dog.
Jake – Chocolate Lab – DOB 1.07.2010
Sleeps inside on his bed, a gentle happy dog and great around children, loves walking swimming and running on the beach.
Well behaved around the house uses his manners and obeys commands, great on the lead once he got over the excitement of going for a walk lol
We have had him for 5 years, our situation changed and I starting working more hour increasing it to a full time job. Jake loves to be around people all the time and missed when we were not home so he did cry a little bit. We decided that it was unfair and wanted to find him a family with young children that could spend the time with him and be home more.
We thought we found the perfect family after looking and going through all potential families but it wasn't the case and we went and picked him up last night, he was very dirty and had not had a bath in weeks, he has put on quite a lot of weight about 6kgs over his preferred weight 28kgs that the vet told us to keep to. He was very thirsty, smelly and hungry.
I have this morning taken him to the vet to be checked out and he is all good even got his shot up to date. The people that had him lost his puppy book so I have replaced it and got a copy of his records dated back to 2010 when we got him.
He is neutered was done when he was 8 months old but Jake isn't a huge fetcher of a ball I have spent hours trying to teach him he might do it once or twice but wont do it over and over. We walk Jake through one tree hill about three times a week and haven't had any problems around cows and sheep but don't know about ducks or chickens horses or cats. Jake is fine around other dogs we take him to off lead areas and socialise him weekly 2-3 times.
If you are interested in Jake please let me know asap.
cheers
Gail – Lab Rescue
021-365450
daisyfatlabby@live.com
Disclaimer: The Labrador Club inc. accepts no responsibility for dogs rehomed through Labrador Rescue

Feb 2016 8 year old Scooter needs a new home
UPDATE:- The adorable loving Scooter has gone to a new home in the Turangi area for a trial period. Fingers and toes crossed for this gorgeous boy as John and Val seem like a perfect fit for him. He's on a lifestyle block, they are home the bulk of the time and he is the only dog on the property. Though the cats, being cats will probably beat him up lol
Meet the stunning Scooter who is a lover, not a fighter. He needs a home where he will be loved and adored as he should be. Sounds like he is best suited as a one dog family where he can be indulged with all the love and attention he could possibly want. He is used to being alone during the day but we would prefer him to go to someone who maybe only works part time.
Scooter is an 8yo Yellow Labrador located in Horowhenua. He is the ideal family dog, adoring the grandchildren at his previous home. Personal circumstances changed there and he has spent approximately 18 months at his current home, where he is around horses, cows, cats and chooks and ignores them. He is very fit and active for his age and loves car rides, walks (still capable of 2-3km walks) and trips to the park. He is such a softie. His current owner adores him but feels she owes it to him to see if his perfect person/home is out there – a person who wants a dog virtually permanently attached to them to give him plenty of love and attention which he will lavish on them in return. He is not suited to a home with other large dogs due to his passive nature and he would be best as the only dog so he can get full attention, or have a small dog as a friend. He lived with a small dog at his last home who was his best friend.
If you are interested in Scooter Contact Gail at daisyfatlabby@live.com or 021365450
Disclaimer: The Labrador Club inc. accepts no responsibility for dogs rehomed through Labrador Rescue

Feb 2016 9 year old Sara needs a new home
UPDATE:- Good news, Sara is in the process of going to a new home YAY
Sara is a sweet girl. She was abandoned at the Hastings SPCA early Dec. They were able to trace her back to one of our members as the breeders through the micro chip which was done before she went. The breeder has been looking after her and has the following to say:-
| | |
| --- | --- |
| | |
She seemed to fit in well with our dogs until last week when she instigated a fight which escalated into an all out brawl. Unfortunately her older sister was bitten but has made a full recovery. Since then Sara has been in the house by herself and the others restricted to the kennels and back yard. She is a delight, well behaved except for eating a bag of muesli which was left out. She only gets on the couch when I tell her which I do at night and she sleeps there but I can put her in a crate or pen and she doesn't make any noise. Comes when she is called and sits – then roll over for a tummy rub.
She is nine years old. When she arrived she was underweight but is in good condition now. I have had her hips and knees x-rayed. her hips are fine but her knees are arthritic. At the moment she doesn't limp but she may eventually need ongoing meds for her knees.
I would love to keep her but would always be worried that a door or gate got left open. Would be perfect for someone who likes a gentle walk everyday. Hoping there is someone out there who can look after Sara as an only child.
If you think you may have the perfect home for this lovely lady in her middle aged years, please contact me asap.
Kind regards
Gail
Lab Rescue
021-365450
daisyfatlabby@live.com
Disclaimer: The Labrador Club inc. accepts no responsibility for dogs rehomed through Labrador Rescue

Update 5 year old Thor has a nice quiet home
Thor the lucky boy went to his new home on Saturday. His new owner went to the Bay of Plenty to meet Thor and Eva on Saturday and returned with Thor who now lives in Puhoi on a 5 acre block with an older labrador who is 10 years old. The new owners are around home a lot of the time which works well for Thor.
We have been told that Thor has settled in brilliantly and they are already absolutely crazy about him. He is off to the vets this week to get the arthritis checked out.
Yay, another happy outcome.
cheers
Gail
His story was:-
This poor boy needs a new home. The below is from Eva who is looking after him
"I received a rescued yellow lab about 6 months ago. My intention was to rehabilitate/adopt him but he will thrive much better with the appropriate lifestyle I cannot give him. It breaks my heart to rehome him. I've had him so long not for just rehabilitation but because I fell madly in love with the goofy boy. Unfortunately he's got a bit of early arthritis kicking in so he needs a much less active lifestyle than I can give. He has to stay at home whilst i take the other ones hunting and running and fishing, it's just not fair on the old boy as he wants to join in. He isn't on meds for his arthritis yet, when he spends time relaxing at home, with his bones and pals he doesn't limp and is generally happy. It's just when he runs too much.
He was neglected the first 5 years of his life. Poor Thor was left outside on his own for years, he never learned to play, never learned to walk on stairs, was pretty much forgotten and practically starved (a big deal for a lab)! When his owner died the parents came forward to take Thor, but they hated how misbehaved, hyper, and overly hungry he was. He went from being neglected and starved to overfed, overweight and beaten. They sent him down to a dog trainer in the BOP, they live in Auckland, and pretty much told her they don't want him back unless she "cured" everything.
I opted to take him in for rehabilitation and eventual adoption but now I've realised he can't run around with us, can't play too much with all the puppies I get, or he gets sore and limpy. Sometimes he's alright on his own, but other times he's bored, anxious, and scared when left too long. I hate leaving him on his own but I can't hold my other three dogs back as they are very, VERY active dogs. We run 10-15ks a day as well as hike and swim and fish.
I'm in no hurry to rehome him, I will be even more picky about his rehoming than my rescues since I know exactly what he needs, but I'm just putting my feelers out there for that "perfect" home. I know they're out there!
he won't be good with small kids. He's too clumsy and does some pretty rough love bites. He doesn't care about cats and is great with all sizes of dogs. He's moderately house trained but if he has to go he WILL go wherever, so frequent toilet breaks necessary. He doesn't like stairs, or jumping into/out of cars, he never did it throughout most of his life and now with the arthritis starting up it hurts, so i carry him in and out.
He's 5 years now, nearly"
So if you are interested in a slower Labrador rather than a rambunctious youngster, one that needs and deserves a lot of TLC, please call me.
Gail – Lab Rescue
021-365450
daisyfatlabby@live.com
Disclaimer: The Labrador Club inc. accepts no responsibility for dogs rehomed through Labrador Rescue

Update 4 year old Molly has a new home

Her story was:-
Molly is about 4 years old, is very obedient and loves cuddles. She is excellent in the house. She just wants a home where she can be loved and adored. Molly is based in Fielding.
Molly does have an aversion to small dogs and cats so this needs to be taken into account. She also needs half a pill a day to sort out her incontinence but is well managed with half a pill.
If you are interested in the lovely lady, please give me a call
Gail – Lab Rescue
021-365450
daisyfatlabby@live.com
Disclaimer: The Labrador Club inc. accepts no responsibility for dogs rehomed through Labrador Rescue

Update 18month old Booboo has a new home

His story was:-
Meet darling Booboo. He is a gorgeous boy, full of beans, very energetic but loves cuddles and will happily sit at your feet with a goofy look on his face while you scratch his ears and rub his belly. Booboo is a year and a half, desexed, vaccinated, registered and microchipped. He is house trained and crate trained.
He needs some training but is a quick learner and tries to be good but sometimes it just gets the better of him. He's good with other dogs and cats. Probably wouldn't be good for a family with young kids as he would bowl them over, probably time and time again. He needs an owner that can spend some time with him, train him to be a good doggy but not take his personality away.
If you are interested in Booboo, please contact me
Gail – Lab Rescue
021-365450
daisyfatlabby@live.com
Disclaimer: The Labrador Club inc. accepts no responsibility for dogs rehomed through Labrador Rescue
I have had this gorgeous girl become available. Her parents have split up and her mum is unable to find a rental that that will allow her. Her owner says:-
"Coco loves water, balls, fetch, looooves people and other dogs, so much, she has heaps of energy, being almost 1, she definitely needs exercise, but is so fun loving. She is great with kids, bought up around my 5 and 2 year old.
She has been to puppy preschool, and is very food driven so therefore easy to train. I have taught her a bunch of things already, she is also very good with hand signals as much as words. She can get easily distracted though when training, so if there are other dogs, it is very hard for her to focus as she wants to play play play. She's okay with cats, in the sense that if they are scared and run she will want to chase, but if they stand their ground and tell her how it is, she will be scared of them.
She was bought up around stock too and is good with stock, just wants to play again, but isn't too much around them.
She is crate trained, so can sleep anywhere that her crate is, obviously inside or in a garage, happy with her crate though and very comfortable in there, has been since 8 weeks old.
She is micro chipped, registered and speyed, yes.
She is happy by herself during the day, but would need good fencing or so she doesn't feel she wants to go find fun, she is best if exercised as I said, so she doesn't try to find fun as such as she loves company when it is around, or other dogs.
I am in Tuakau and she is at a pet nanny in Waiuku at the moment, I have been trying to find a home for her for about a month, but have found it hard as I want the best for her, not just to palm her off!"
If you are interested in Coco, or know of someone who may be interested in Coco, please let me know asap.
cheers
Gail – Lab Rescue
021-365450
daisyfatlabby@live.com
Disclaimer: The Labrador Club inc. accepts no responsibility for dogs rehomed through Labrador Rescue

Update – Chloe has a new home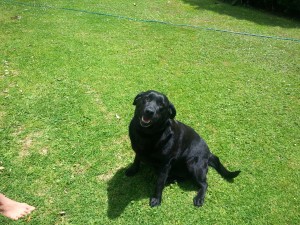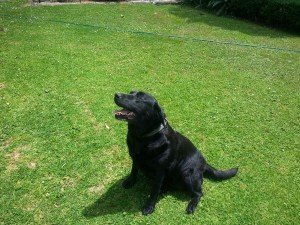 This is Chloe. Approximately 5 years old, microchipped speyed female.
She was living with another Labrador but she does not play well with small dogs (and assuming cats as she hasn't been socialised at all with them)
She is a lovely girl and with some love and attention would make an awesome addition to a family.
As you can tell by the above this pretty princess needs a bit of training and attention and some good manners lessons but only because she has been a bit neglected training and time wise over the last couple of years.

Update – Bheem no longer needs a new home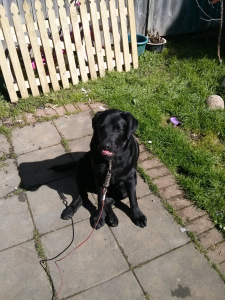 Bheem who was born on 20th November, 2012 so almost 2 years old, has been found a new home by his owner.
He needed a new home as his owner is moving out of his parents house and cant take Bheem where he is going.
He is up to date with all the shots and is neutered. He loves everyone and loves to play with all animals. He does not get angry, only barks to get peoples attention. He is a good family dog, that loves attention and loves giving you attention. He is scared of lightning and fireworks. He hates taking a bath but he loves diving into small or big puddles.
He loves taking walks and playing, he is toilet trained. He can stay the whole day outside but in the night, he normally gets brought inside to sleep. He is a big Labrador with a lot of hair, so the hair does fall.

Update – Buddy and Boss have a new home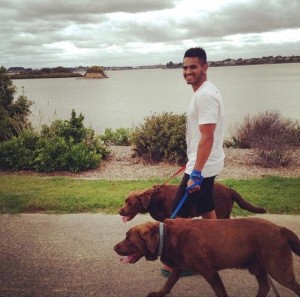 Buddy & Boss the 6 years old chocolate lab brothers, have a new home together in Masterton.
They were registered, vaccinated and still entire but not used to being around other dogs or other animals such as cats. They are not inside dogs having been kept outside in their own 1 acre pen with their own big dog house. Both are very playful and just love attention and like walks (of course).
They are well behaved on a lead and follow normal commands such as to sit but they haven't had formal training as there was no need.  They get excited around kids and people in general, but this is purely friendly and then calm down.  They have been debarked due to complaint from a neighbour (same neighbour whose chickens they have killed) so obviously some animosity there.
They are very close and get anxious if not together so it is marvelous that they have a new home together.
| | |
| --- | --- |
| | Lucas the 3 year old Labrador was at the pound but now has a new home. |
He is very playful and affectionate but also bouncy and excitable. He is ball and food driven and was taught to heel in 7 minutes with treats but will need to go to someone who has had dogs previously for training purposes. He is good with kids, even with kids with biscuits in their hands. Lucas comes from a lifestyle block and was surrendered voluntarily as they had too many dogs on the property and could afford to register them all etc.

Update – Cooper has a new home
The humane society has found a new home for Cooper – the 5 year old yellow male labrador that had been surrendered to the Auckland council.
Update – Willie has a new home
Willie is a beautiful 4 year old male that needed a new home as his owners have been given a fantastic opportunity to run a wildlife sanctuary but unfortunately dogs are not allowed – even dogs like Willie who are trained to leave all livestock, bird etc alone.
He is house trained, sleeps inside by the bed and will sneak up onto the bed when you are asleep. Willie adores kids and will happily play with them for hours, gets on great with cats, chicken and stock as well.
Willy was spoilt for choice for new humans to live with, but look at that photo, how could he not be.  Kym and Jason struggled with giving him up but eventually chose a lovely new home in Whitianga with Ian and his wife and kids where he can play and swim and be spoilt rotten.
Thank you all for your interest in this gorgeous boy

Update – Fudge has a new home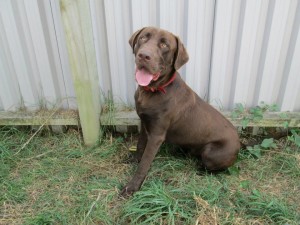 Good news for Fudge the gorgeous 18 month old male Chocolate lab. His "trial basis" new home through the Humane Society has now become his "permanent home".
Fudge was previously at Pukekohe Pound where they were looking to find him a new home – preferably with older kids.
Fudge likes to chase your feet when walking him, will play fetch and tug but gets very easily distracted and also likes to bite the hose when cleaning around him.  Whilst he is an awesome boy and great with other dogs, he isn't driven enough for SAR or MAF.

Update – 8 month old Duke has a new home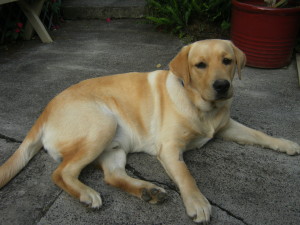 Duke, a pure bred 8 month old male yellow Lab, has found a new home with a really fantastic family that are even going to buy him a life jacket for when he is out on the boat with them.  How cool
Kind regards
Gail Symons
Labrador Club Rescue
021-365450
daisyfatlabby@live.com
Disclaimer: The Labrador Club inc. accepts no responsibility for dogs rehomed through Labrador Rescue